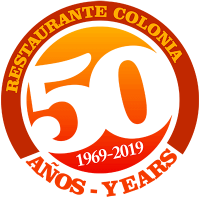 Since 1969
Our story
It was in the spring of 1969 when a young German dreamer began the adventure of opening his own restaurant business on the Costa del Sol after setting up a small German sausage stand called "Onkel Willi".
The Snacks Bar Colonia Internacional began on April 1, being a small company in which Fritz Fröhlich, helped by a friend, undertook his great dream that, year after year, increased in volume and clientele.
In the 70s, 2 more stores were added, thus expanding the business with a Pizzeria (Pizzeria Napoli), Hamburger / Snacks Bar Colonia Internacional and on the first floor Steakhouse Restaurante Colonia.
It was around the 80s when the menus were unified and it was renamed Restaurante Colonia, and after the crisis of the 90s, Fritz completely renovated the restaurant and added Mexican food to the menu.
As time went by, Fritz saw his dream come true, but for health reasons he had to leave the management to his family (wife and children).
More than 50 years have passed since that April 1, 1969 in which the Colonia Restaurant opened its doors for the first time and has seen thousands of customers pass by its tables who, returning year after year have become friends as part of our story.
To all of you … Thank you!